Good news is here, everyone! Coastal and industrial interior designs have finally merged, and the result is mind-boggling! Indeed, coastal and industrial styles have often borrowed some traits from each, but what is now tending is nothing compared to what it was before. Generally, standard coastal design projects a few elements of antiquity and age. But the emerging trend is more towards something similar to a bohemian coastal, i.e., a coastal interior design that highlights more of the light and colour.
What the new age has to present to you is far from the conventional breezy, beach vibe that we usually picture in a coastal design. Neither is it the intense and heavy atmosphere like that of typical industrial interior design. Welcome home the new perfect blend of both worlds, a little of the airy vibe along with the masculine touch of the industrial interior setup.
It is not easy explaining how this design looks like, so we found an easy way for you. We'll describe each detail of the plan for you to get a fair idea of what the merger design looks. Let's start with the texture because there is a lot of texture in this interior design. The best thing you can do is to pack the interior with enchanting furnishing with concrete finishing, including the elegant touches of your preference.
This is the best part of this merger; you can get it customised to your interest and still get the weathered and aged traditional coastal look. It is recommended that you make them look more handmade. You can also try some harder textures while blending in some rough moments with smoother concretes and metals at the same time. Make the softer materials like the rugs, sofa covers and other elements of such sort be delightfully woven in coastal colours, anything in the beach homeware section will do!
Now comes the essential part of the merger; metal. The easiest way to blend in the industrial and the coastal interior designs well is to use the texture of minerals along with some weathered and darker shades of wood. You must already know that the classic coastal style has a lot of white in it with some highlights of flaxen timbers and tones of blue and green to match with the seashore vibes. The new merger introduces a different colour palette which is dominated by darker shades. This darker theme is inspired by the industrial design, and this intermingling with all these lighter shades brings in a beautiful result. 
The merger brings in a design that is earthy and clean at the same time, an atmosphere that is dark yet lit up and doesn't have white as its base colour anymore. This design is dominated by soft tones of grey, in collaboration with rusty and beige colours, along with a tinge of blue-black shades and darker tones of green. This is a captivating colour palette, and despite all the contrasting shadows, it looks very balanced and trendy. This is the much-awaited change and revolution we needed in the interior design field. Of course, if you find it very dark, you can always lighten the shades and throw more tones of oatmeal and timber to soften the palette.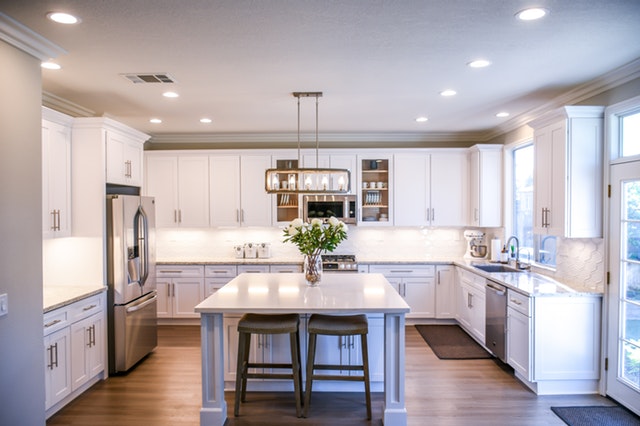 It might look like a hard task, but it's a cakewalk. You have to keep some pointers in your head while planning the interiors. The first rule is to keep it moody; include more shades of charcoal, black, beige and blue. Use handmade branches and weathered woods for the furnishing. Lighten up the setup with lighter shades of soft materials like the sofa covers and carpets. Do not stuff the interiors with a lot of patterns; instead, focus on the colour and the texture. Use metal in the right places. Make sure your design has a story of its own to tell. This should do the trick. Happy designing!