While celebrities are used to the glitz and glamour of the entertainment world, they don't expect less when staying in hotel accommodations. Great service, a break from the paparazzi and to be ensured of 100% privacy while they take a holiday are all necessities.
While there are so many places to see all over the world, luxurious hotels in Australia are like no other with their unique offerings in terms of experience, location and view. Let's take an inside look at which luxury hotels celebrities prefer staying at while visiting Australia.
Saffire Freycinet
One of the best hotels in Tasmania, this luxury lodge has everything even the most seasoned traveller would want. While still paying homage to its glorious surroundings, this hotel features top class restaurants and facilities, including a bespoke luxury day spa. The accommodation caters for all and ranges from Private Pavilions to Luxury Suites. Don't forget to make use of the many activities and experiences the hotel offers, such as the Freycinet Marine Oyster Farm, one of the best oyster farm tours in Tasmania.
Makepeace Island
This heart-shaped island, that Justin Bieber featured in one of his Instagram posts, offers a truly authentic Balinese vibe where you can be pampered by its luxury services, accommodation and staff. This hotel has a flawless rating for cleanliness, location, and value, while the exclusive island setting offers the privacy of any celebrity craves. Once the Australian home of Sir Richard Branson, it is situated 40 minutes' drive away from the Sunshine Coast Airport in Noosa, Queensland.
It accommodates 22 guests at a time offering a fusion of luxurious service, nature and modern living. It's the perfect place for an awesome retreat, and even features a spa and wellness centre. Free Wi-Fi is provided and there are babysitting/child services for parents looking for an afternoon alone. Serene, tranquil and secluded, this hotel is ideal for a full physical, emotional and spiritual rejuvenation.
As for activities for the family, all guests have access to the property's gardens, barbecue area and terraces. There is a pool table for everybody to enjoy and the outdoor tennis courts are always well-maintained. Couples can also grab a drink in the romantic lounge bar.
Qualia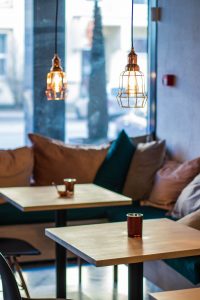 Meaning "a collection of deeper sensory experiences" in Latin, Qualia restricts its guests to 16 years old and over to maintain a peaceful ambiance.
Occupying Hamilton Island's northern tip, its calmness and exclusively luxurious guest service assure much-needed privacy for guests. Chris Hemworth made the most of this privacy, posting photos of himself on Instagram while having a vacation at Qualia, which is one of Luxury Lodges Australian affiliates.
It is not only the massive land area of this hotel that is impressive, but what's within it. Wilderness lodges, vineyards, dining destinations and outback camps are all included within the resort. Known for its luxurious service, delicious wine and food, unique ambience and delightful décor, Qualia has owned the travel awards since 2008. For 10 consecutive years, awards served as proof of its excellence. Some of these awards include (2008) Travel and Leisure USA "It List" of the 30 Best New Hotels Around the Globe, (2011) Luxury Travel Magazine Gold List and (2018) HM Awards – Best Resort and Best Australian Lodge.
Park Hyatt Sydney, New South Wales
Featuring breathtaking views of the Sydney Opera House, and the Harbour Bridge, this is the most luxurious hotel in Sydney and has hosted celebrities such as Lady Gaga, Nicole Kidman, Jamie Oliver, Elton John and the Rolling Stones.
The most iconic feature of this exquisite hotel is the outdoor heated swimming pool, located on the rooftop, which gives its guests an unrivalled view. It often leaves guests pinching themselves just to check if they're dreaming or not at its sight. Discover the Rock Village, with its unique cobbled laneways and luxurious boutiques, cafes, art galleries and museums. Discover why it's chefs are often called the 'Masters of Food and Wine', as you experience one of its 155 spacious guest rooms including a Sydney Suite. Reviews from guests go as far as considering the views from this room priceless even if it is the most expensive in the city.
Hayman Island
After a 6 month, $80 million renovations and refurbishment by world-class hotel brand One and Only, Hayman Island was awarded one of the best luxury hotels in the world in 2014. It is an iconic private island resort located at the heart of the Great Barrier Reef in Queensland.
The entire cast of the hit series, Modern Family, visited here to shoot an entire episode entitled, "Australian Vacation". While One and Only Hotels boast service standards like no other, this hotel also includes magnificent pools, wide spacious wing accommodations and iconic views of the beach of Hayman, Whitsunday Islands and the Coral Seas. It downsized its room number from 210 to 160 to make room for the Hayman Wings where 3 and 2-bedroom accommodations are featured, surrounded by different bars and restaurants that are sure to lure you with the smell of something fresh and delicious being grilled.
LONGITUDE 131°
Who says a desert camp can't be luxurious enough to provide accommodation? For those who are adventurers at heart, this is an essential experience that cannot be missed while in Australia. It lets you discover the cultural heritage of the surrounding wilderness, loaded with tranquillity, serenity and the peaceful calm that every soul seeks. Located at Uluru-Kata, Tjuta, Longitude 131° gives you enrichment, reconnection, as well as a sacred and timeless experience. At a cost of 900 pounds per person per night, you can see why Oprah Winfrey and a line of her entourage chose to indulge in a stay here.