When booking a hotel, most people focus on three things: the bedrooms, the bathrooms and the balconies. After all, they are at your hotel to take a break from their regular lives. As such, the comfort of your bathroom is very important to the guest's overall experience. Bathrooms also require extensive planning given the laws and regulations that dictate how they are to be built. Most importantly, however, if your guests feel pampered and relaxed, they are most likely going to come back and stay again.
Size
Luxury starts with space, or so I like to think. There is nothing quite like like a huge bathroom or wardrobe. For this reason, space is a big consideration. While it does not need to be the size of the bedroom, something that is at least bigger than the normal house bathroom will make the guests feel special.
Size can be achieved through some tricks and design features, such as a mirrored wall and a light coloured finish.
Flooring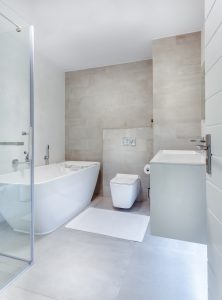 Be it a floor with patterns or a smart marble finish to add a more sophisticated look, but it is the flooring that strikes the eye most. A combination of statement walls along with bold flooring can also help your bathroom look spacious. Consider something like floor to ceiling tiling to add some extra wow factor to the room.
Adding heating below the floor is great if your hotel is in a cold climate. Many of the best hotels in Hobart, Tasmania, a place with cold winters, have heated flooring to keep the guests feet warm!
Go for doubles
Double sinks and double showers are always a yes if space allows it. Setups like this always a hit with guests, as long as you are not compromising on space or missing out on any other additions as a result. A statement wall can add glamour to the double shower as well.
When it comes to sinks, rustic looks are a good way to go. A vintage tap with brass finishings makes for a classy look.
The windows
If the hotel looks out to something green or something that one might like to look at while lying in the bathtub, why not use this as an advantage and install a large window.
Of course, you will have to include options like blinds and shutters to complement the setup to ensure privacy. Luckily, shutters can add to the elegance of a bathroom and blinds can be easy to conceal.
Cabinets
Your towels and toiletries occupy quite a bit of space, so having somewhere to hide them away is a good option. The more extravagant the tiles, walls and windows are, the more simple you should keep the cabinet. A polished, matte look is great for a neat, tidy look and won't take away from the other features of the bathroom.
Themes
Every element in your bathroom can be set according to themes. Theming could be based on things like country, traditional bathroom motifs or maybe something with murals. This makes picking every element easy as you know what the bathroom must feel like once you are done designing it.
A good example of this can be found in much of the luxury accommodation in Tasmania, which makes the most of the heritage and history of the area and themes their rooms accordingly.
Make it shimmer
The bathtub can have a metallic edge, maybe golden in colour if you are going for full luxury. This choice also fits well for taps and showers. Just make sure that the metallic look you choose complements the walls and the flooring.
Pampering
A lot of built-in storage space helps to sort toiletries and helps create an illusion of space. The same can be said for building cabinets into the wall instead of adding them externally. The kind of bathrooms that have sitting arrangements as well also add to the luxury feel.
Accessories
While the design and build of the bathroom is important, you should also give thought to the accessories that you are going to put in it.
Soap dispensers that suit your theme, liquid soaps in transparent bottles, towels that fit in with the curtains and the tiles are all things to be considered.
By putting a lot of thought into all aspects of your bathrooms, the end result will be all the better for it. Your guests will feel like celebrities when they walk into such a luxurious space!